BEL Supply Chain Solutions Limited (BELSCS), a subsidiary company of BEL Group,
was established in 2013.

The objective is to diversify our range of services from freight forwarding business in order to fulfill our customers' needs. Currently we manage over 1 million square feet of warehouse space and 100 trucks.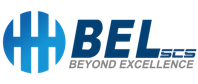 Address: 7F, Mita Centre 552-566 Castle Peak Road Kwai Chung,Hong Kong
Tel: +852 3468 6678 Fax: +852 3426 9070
E-mail: kevin.ng@bel-scs.com